CHOIRS
Music Instruction
Dance
Theatre
Visual Arts
Yoga
Performing Ensembles
Megan Dulcie Dill Art Studio
About the program:

The classes are developed to provide children and adults with an opportunity to study art in a fun, supportive and creative environment.  Throughout the program students are educated in all aspects of art including developing technical ability, expanding knowledge of historical and contemporary artists, learning from each others work, mastering different materials and choosing artwork for public display.  Classes are kept small to foster quality instruction and guest artists are invited to share their expertise for specific classes and workshops. Private or semi-private sessions can be booked throughout the week for individual needs. Workshops and adult classes are held throughout the year.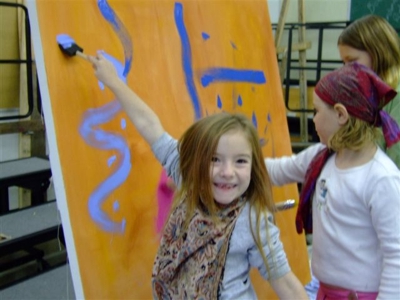 Children's Weekly Classes
Children's classes are held Friday after school from 3:45-5:00 in three month sessions during the fall and spring. Throughout the session students will explore drawing, painting and working with clay and other 3D materials in a fun supportive environment.
$60/month
Phone 414-7020 for information and registration.
For further information, please contact the Academy
Tel.: +1 604 485 9633; e-mail: info@powellriveracademy.org