CHOIRS
Music Instruction
Dance
Theatre
Visual Arts
Performing Ensembles
Early Childhood Music
Early Years Creative Music and Movement Program
Welcome…Let's play with music together!
All classes will include a wide variety of music to engage both the child and accompanying adult to sing, play percussion instruments, and explore rhythm and beat using creative movement and games.

Let the many elements of music nourish your child's curious, rapidly developing mind! Program content is delivered in a structured learning environment.
- First sessions start the last week in September and January
- Second sessions start mid-November and mid-March
- Sessions are 5 weeks
- Each session offers a different theme and musical content
- 2 x 5 week sessions offered between Sept – Dec
- 2 x 5 week sessions offered between Jan – June
Fall 2023 Session: Spring Friends
45 minute classes
Fee: $50/per child per 5-week session (plus Academy registration fee of $28, payable once annually)

Baby Music - Tuesdays September 12 - October 10
Toddler Music - Tuesdays September 12 - October 10; Fridays September 15 - October 13
Preschool Music - Fridays September 15 - October 13

Baby Music  6 months – 18 months (with parent/caregiver)
Tuesdays 9:15 – 10:00 am
Parent and child will have fun moving to the music, using interactive play and introducing simple percussion instruments. Class content will stimulate babies' natural response to musical beats and provide an introduction to vocabulary using songs in an enjoyable, child-centered environment.
Toddler Music  18 months – 3 years (with parent/caregiver)
Tuesdays 10:15 – 11:00 am; Fridays 10:15 – 11:00 am
Class content will offer a musical collage of songs that will have your child singing, dancing, and actively playing simple instruments in a fun, hands-on environment. Musical games will introduce children to speech patterns, sensory motor skills, and essential movement skills.
Preschool Music  3 – 4 years (with parent/caregiver)
Fridays 11:15 – 12:00 noon
Class content will be a playful adventure structured enough to encourage the development of basic musical concepts taught through the use of singing, creative movement, and rhythmic games and a variety of percussion instruments. (Children should be 3 before Sept 31.) 
Call the Academy of Music to register 604-485-9633 or go online to www.powellriveracademy.org.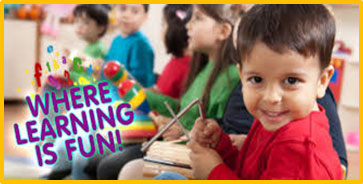 Instructor: Patti Coburn
E-mail: pattiscoburn@gmail.com

"Her love of music combined with her creative energy and understanding for young children will make this class an extraordinary experience not to be missed. Every once in a while things come along in life that seem too good to be true and Making Music Together classes for Patti will be just one of those things!"
Patti joined the Academy of Music after retiring from a long professional career in the field of Recreation. Patti has a Degree in Education and years of experience in program planning, facilitation, coaching and teaching children and adults of all ages.
Patti has a love and appreciation of music that is home-grown. She grew up in a very musical family, has been singing in choirs since her youth, and performs as a musical duo with her husband at special occasions and community events. But it has been the combination of music and moment that has always played an especially important part in her life. She has incorporated live or recorded music for mood, melody, rhythm or beat into many of the classes she has planned, coached or instructed, including pre-school discovery play, dance, skating, aerobics and gymnastics.
Music for Patti is a lifelong learning experience and she looks forward to leading this new program of making music a joyful experience for the early years.