Edward Norman,
organ
Live accompaniment to a silent film
Sunday, January 21, 2024 | 2:00 PM | James Hall

Admission $25 - Students 18 & under free with student ticket voucher

Relieve the greyness of January with the suspense of a classic silent film, popcorn, and the live music of Edward Norman!


Tickets are also available:
• at the Academy Box Office – 7280 Kemano Street, Monday – Thursday 9:30 - 4:30
• by phone at 604-485-9633
• and at the door 30 minutes before the concert
About the Artist
Edward Norman was born in the UK and trained at the Royal College of Music, London, winning two prizes for organ performance. Further studies at UBC with organist Hugh MacLean followed his emigration to Canada. He has held several important church positions in Canada, including St. George's Cathedral, Kingston, Ontario. he has held two important posts in the USA – most recently at St. Michael's Church, Charleston SC.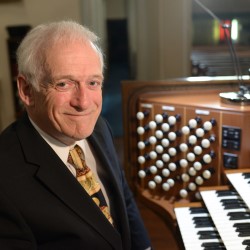 In Canada he has performed from the Maritimes to British Columbia, including St. James' Cathedral and St. Paul's Bloor Street in Toronto, Mount Royal College Calgary, the University of Alberta in Edmonton and Holy Rosary Cathedral, Vancouver. He has performed widely in the UK, including Cambridge University (Fitzwilliam College) as well as in Poland, Germany and Japan. He has performed in the Vancouver International Festival and – most recently – the Spoleto Festival in Charleston SC. He has been heard frequently on CBC radio.

As an accompanist and continuo player, Edward has performed with a wide variety of ensembles and instrumentalists including principal musicians from the Pittsburgh Symphony Orchestra, the Vancouver Symphony Orchestra, the Kingston Symphony Orchestra, the Charleston Symphony Brass, the Vancouver Bach choirs and the YNSO, Tokyo, to name a few.