Celso Machado guitar, percussion
& Academy Chamber Choir

2008 WORLD SOLO ARTIST of the YEAR - Canadian Folk Music Awards
"Amazing skills, skills that combine elements that in the U.S. are rarely found in the same band, let alone the same musician."... N.Y. Brazilian Guitar Marathon
"A one man compendium of Brazilian diversity"... Detroit News
Tuesday, November 15, 2016 | 7:30 PM | James Hall

Admission $20 - Students 18 & under free with student ticket voucher
SAVE with the Seven-Concert ticket package - $120


Tickets are also available:
at the Academy Box Office – 7280 Kemano Street, Monday – Thursday 9:30 - 4:30
by phone at 604 485 9633
and at the door 30 minutes before the concert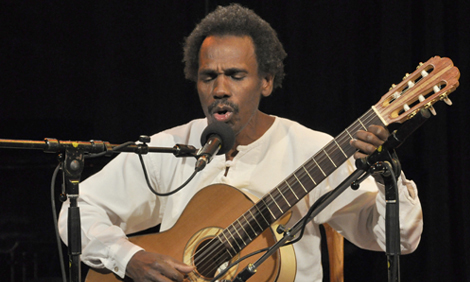 Virtuoso Brazilian guitarist, percussionist, multi-instrumentalist and composer, Celso Machado, transports his audiences through the richness and diversity of Brazilian music and beyond. For forty years Celso Machado has been performing on concert stages throughout Brazil, Western Europe, Scandinavia, Canada, and the United States. Considered one of the most versatile and exciting musician/composers of Brazilian music today; his guitar technique is but one of his passions; his gift for making music out of anything and everything around us is his mission in life.

In addition to Celso's solo career he has shared the stages with some of the world's great guitarists: Sergio and Odair Assad, Badi Assad, Romero Lubambo, Yamandu Costa, Cristina Azuma, Peter Finger, and Solorazaf.  He has opened for Gilberto Gil, Bebel Gilberto, Hermeto Pascaul, and  Al di Meola; amongst other great musicians.

Brazilian music has arisen out of various blends of Classical European, African, Portuguese and Indigenous influences. There is less division in Brazilian music between classical and jazz, jazz and folk.  While Celso's music is rooted in Brazilian rhythmic and melodic styles, it also reflects his incurable fascination with other world music traditions. He finds similarities between the music of southern Italy and northeast Brazil, the Egyptian Maqsoum and the Brazilian Baião  rhythm, the Moroccan Gnawa rhythm  and Afoxé and Samba. Celso incorporates these influences into his own sound; his own unique contribution to the ongoing evolution of Brazilian music.

Drawing on his thorough study of classical guitar, Celso composes for guitar and ensemble.  His remarkably innovative compositions are infused with a rich knowledge of the traditional music of Brazil: samba, chôro, baião, frêvo etc.  His compositions are published by Editions Henry Lemoine in Paris and are performed and recorded by both students and professionals around the World, from solo performances to guitar orchestras.  Many of his scores have been adapted for other instruments: piano, violin, cello, clarinet, pan pipes, harp etc.
Visit his website at celsomachado.com.
Academy Chamber Choir
Walter Martella, conductor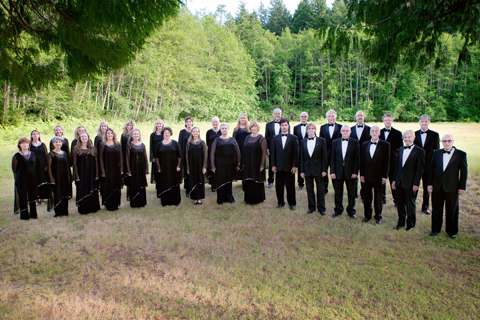 The Academy Chamber Choir consists of thirty - six singers from a wide variety of backgrounds and professions. This amateur choir, since its inception in 1994, has developed into one of Canada's dynamic chamber choirs.
The choir specializes in a cappella music from the Middle Ages to the 20th century and regularly commissions new works by Canadian composers. They frequently collaborate with soloists, instrumentalist and other choirs in the performance of major choral works such as Carl Orff's Carmina Burana, Francis Poulenc's Gloria and Felix Mendelssohn's Elijah and have toured in Venezuela, the Czech Republic, Canada, Mexico, Spain and France.
Walter Martella, conductor and music director of the Powell River Academy of Music, is a pianist, trumpeter, and accordionist. Walter has taken the stage with many world class musicians and conductors. He has recorded 5 cds. Performing is a significant part of Walter's career but just as important to him is his involvement with the Academy of Music. He is a strong believer in the power of music as part of community. Walter is currently the conductor of Chor Musica, Academy Chamber Choir, and the Powell River Chorus and has a full private teaching schedule. He is a graduate of Banff School, Vancouver Island University, UVIC, and the BCCF conducting program. He is a charter member of the Powell River Boys Choir.