Edward Norman, organ

Back by popular demand, Edward Norman brings to life the classic 1923 Lon Chaney silent movie the "Hunchback of Notre Dame" - onscreen at James Hall.
Saturday, November 5, 2016 at 1:30 PM ~ James Hall

Admission $20 - Students 18 & under free with student ticket voucher
SAVE with the Seven-Concert ticket package - $120


Tickets are also available:
• at the Academy Box Office – 7280 Kemano Street, Monday – Thursday 9:30 - 4:30
• by phone at 604 485 9633
• and at the door 30 minutes before the concert
In the days before film soundtracks, showings almost always featured live musicians. Pianos were common for small town theatres, but organs also became a popular accompaniment because of their ability to fill the theatres with sound, with the added advantage of simulating special effects. Although there were some orchestral scores provided with the silent films, generally the music was entirely improvised.
Ed Norman's familiarity with the movie enables him to provide emotional cues as tradition prescribes. His resplendent organ technique, timing, articulation and innate sense of perfect registration have been entertaining Powell River audiences since the early years of the Boys' Choir, and most recently several sold-out Carols by Candlelight performances.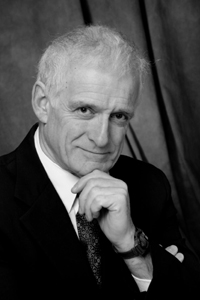 Edward Norman studied at the Royal College of Music, London, principally under Harold Darke, winning the Haigh Prize for organ performance. He later continued studies with Hugh MacLean at the University of British Columbia. Some years later he - in turn - became Organ Instructor at UBC, and at Trinity Western University. For many years he was organist for the Vancouver Symphony Orchestra. As a recitalist he has appeared widely in Canada and has performed frequently in the USA, including the 2010 Piccolo Spoleto Festival in Charleston, SC. He has played in Poland, Germany and at Cambridge University (Fitzwilliam College). He has appeared in the Vancouver International Festival, and the Janácek Festival in Tokyo with the YNSO. Again with the YNSO, he performed the Saint-Saën's Organ Symphony under the direction of Claus Peter Flor.  He has been heard frequently on CBC radio as a recitalist, continuo player and accompanist. Mr. Norman has held major church music positions in North America including St. John's Church, Vancouver (formerly St. John's Anglican Church, Shaughnessy), First Presbyterian Church of Pittsburgh, St. George's Cathedral, Kingston, Ontario (2005-2009) and - until 2011 - St. Michael's Church, Charleston SC.
Edward Norman was a music producer with CBC radio for ten years, including two years as Executive Producer of the popular drive-home program, Disc Drive. After leaving the Corporation he established his own professional recording business, which he continues to run. Two of his projects have been nominated for awards, and he has had the privilege of working with outstanding Canadian and international artists.
His greatest musical delight is performing with other musicians, and Edward has enjoyed the privilege of working with principal musicians in each city in which he has lived, including leading Vancouver musicians, members of the Pittsburgh Symphony Orchestra, the Kingston Symphony, the Charleston Symphony and a variety of international soloists, ensembles and conductors.
Edward is married to Susan, and they have three adult children.